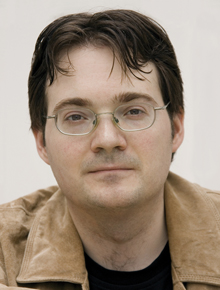 Brandon Sanderson
Author, Elantris, Warbreaker, Wheel of Time series
Brandon Sanderson has published six solo novels with Tor Books - Elantris, the Mistborn trilogy, Warbreaker, and The Way of Kings - as well as four books in the middle-grade Alcatraz Versus the Evil Librarians series from Scholastic. He was chosen to complete Robert Jordan's Wheel of Time series: 2009's The Gathering Storm and 2010's Towers of Midnight will be followed by the final book, A Memory of Light, in 2012. His newest Mistborn novel, The Alloy of Law, was released in November. Currently living in Utah with his wife and children, Brandon teaches creative writing at Brigham Young University.[1]
For more information about Brandon Sanderson, visit Wikia's Wheel of Time Wiki.
References
Edit
Ad blocker interference detected!
Wikia is a free-to-use site that makes money from advertising. We have a modified experience for viewers using ad blockers

Wikia is not accessible if you've made further modifications. Remove the custom ad blocker rule(s) and the page will load as expected.