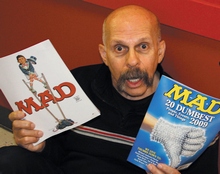 Dick DeBartolo
Writer, MAD magazine
Dick DeBartolo, one of the Special Guests at Comic-Con 2011, is a man of many hats, which may explain his severe hair loss. He's MAD magazine's Maddest Writer and holds the record for being in 406 consecutive issues. He's written 10 original MAD paperbacks and one hardcover book, Good Days and Mad. Dick's also a gadget freak -- as The Giz Wiz, he hosts a popular daily podcast along with Tech Guy Leo Laporte. Dick also appears on ABC's World News Now showing useful and offbeat gadgets monthly. While working for MAD Dick also found time to write 40,000 silly Match Game questions for Mark Goodson Productions.
Ad blocker interference detected!
Wikia is a free-to-use site that makes money from advertising. We have a modified experience for viewers using ad blockers

Wikia is not accessible if you've made further modifications. Remove the custom ad blocker rule(s) and the page will load as expected.