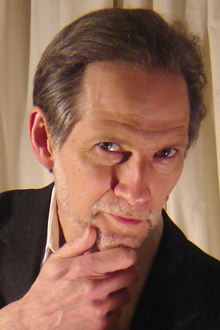 Gary Gianni
Artist/illustrator, Prince Valiant, The Monstermen
Gary Gianni began his art career as an newspaper illustrator and courtroom artist for television, where he covered the trial of murderer John Wayne Gacy. He has received the Eisner and Spectrum awards and he illustrated books by authors ranging from Melville and Stevenson to Robert E. Howard and Michael Chabon. His comics include The Shadow, Batman, Indiana Jones, and Tom Strong. For 8 years he has drawn the newspaper Sunday strip Prince Valiant. Recently, Dark Horse published Gianni's occult detective adventures, The Monstermen and Other Scary Stories, and Ras Press released The Nefertiti–Tut Express written by Ray Bradbury and illustrated by Gianni.[1]
References
Edit
Ad blocker interference detected!
Wikia is a free-to-use site that makes money from advertising. We have a modified experience for viewers using ad blockers

Wikia is not accessible if you've made further modifications. Remove the custom ad blocker rule(s) and the page will load as expected.