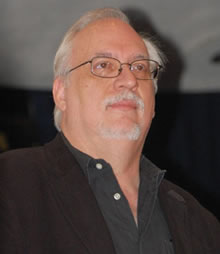 J. Michael Straczynski
Writer, Superman: Earth One; Creator, Bablyon 5
J. Michael Straczynski is one of the Special Guests at Comic-Con 2011.
Winner of the Inkpot, Eisner, Hugo, Saturn and Ray Bradbury Awards, J. Michael Straczynski wrote last year's wildly popular Superman: Earth One graphic novel, with volume two due out this year.
His current film credits include the story for the Thor movie (he also wrote the comic), the script for Underworld 4 (premiering this fall), and several new movie projects, including Shattered Union and Vanishing Point, both for Bruckheimer/Disney. He's also writing Samaritan X for DC Comics and a webcomic, The Adventures of Apocalypse Al, for MTV.com.
External References
Edit
For more on J. Michael Straczynski's work, visit his pages on Wikia's DC Wiki and Marvel Wiki.
Ad blocker interference detected!
Wikia is a free-to-use site that makes money from advertising. We have a modified experience for viewers using ad blockers

Wikia is not accessible if you've made further modifications. Remove the custom ad blocker rule(s) and the page will load as expected.