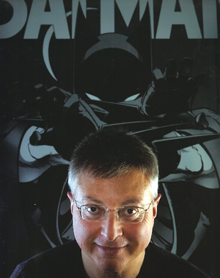 Michael Uslan
Writer/historian/producer, The Dark Knight, The Boy Who Loved Batman
Michael Uslan grew up loving Batman. As a young adult, he was one of the first people in the country to teach a college-accredited course on comic book folklore. Along with business partner Benjamin Melniker, Uslan has produced all the Batman films to date, starting with the first Tim Burton film in 1989. He has also written for comics, including the Archie Gets Married storyline, was instrumental in bringing the 1960s comics fan favorite title T.H.U.N.D.E.R. Agents back to print, and recently published his autobiography, The Boy Who Loved Batman, with Chronicle Books.[1]
For more information about Michael Uslan, visit Wikia's DC Database.
References
Edit
Ad blocker interference detected!
Wikia is a free-to-use site that makes money from advertising. We have a modified experience for viewers using ad blockers

Wikia is not accessible if you've made further modifications. Remove the custom ad blocker rule(s) and the page will load as expected.