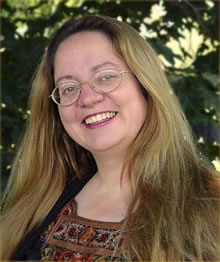 Patricia Briggs
Author, Mercy Thompson series
Patricia Briggs lives in Washington State with her husband, children, and a small herd of horses. She has written 17 novels, beginning with traditional fantasy and then "shifting" into urban fantasy. Her Mercy Thompson series continues to grow in popularity with the release of each book. Bone Crossed debuted at #3 on the New York Times Hardcover bestsellers list and Silver Borne debuted at #1. In the fall of 2010, Patricia made another foray into traditional fantasy when Ace published a rewritten version of her first book, Masques, and its never-before-published sequel, Wolfsbane, both if which landed spots on the New York Times bestsellers list for Mass Market Fiction.
Patricia Briggs also writes the Alpha and Omega series, which are set in the same world as the Mercy Thompson novels.

For more information about Patricia Briggs, visit her on Wikia's Comics wiki at Comics Wiki.
Ad blocker interference detected!
Wikia is a free-to-use site that makes money from advertising. We have a modified experience for viewers using ad blockers

Wikia is not accessible if you've made further modifications. Remove the custom ad blocker rule(s) and the page will load as expected.