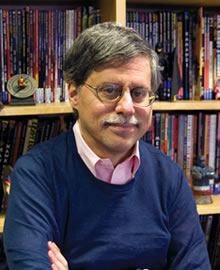 Paul Levitz
Former President and Publisher, DC Comics; Writer, Legion of Super-Heroes
Paul Levitz, one of the Special Guests at Comic-Con 2011, has been a comics fan (The Comic Reader, winner of two Best Fanzine Comic Art Fan Awards), editor (Batman), writer (Legion of Super-Heroes), and executive (38 years at DC, ending as president & publisher). He has received the Inkpot, Clampett Humanitarian, and ComicsPro Industry Appreciation Awards and serves on the board of the Comic Book Legal Defense Fund. His new book, 75 Years of DC Comics: The Art of Modern Mythmaking, has just been published by Taschen, and his recent comics writing appears in Legion of Super-Heroes and Adventure Comics, as well as collected editions.
Ad blocker interference detected!
Wikia is a free-to-use site that makes money from advertising. We have a modified experience for viewers using ad blockers

Wikia is not accessible if you've made further modifications. Remove the custom ad blocker rule(s) and the page will load as expected.