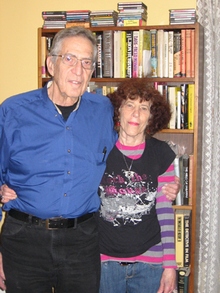 Richard A. and Patricia Lupoff
Writers, Fanzine Pioneers
Pat and Dick Lupoff, Special Guests at Comic-Con 2011, published the fanzine Xero between 1960 and 1962. It was one of the first fanzines to cover the comics field in detail. Their article series "All in Color for a Dime" led to a book of the same name and a second volume, The Comic Book Book. Richard A. Lupoff went on to a career as a mystery and science fiction writer. Several of his novels take place in the world of comic books and cartooning, including The Comic Book Killer and The Triune Man.
Patricia Lupoff has had a career as a bookseller.
Ad blocker interference detected!
Wikia is a free-to-use site that makes money from advertising. We have a modified experience for viewers using ad blockers

Wikia is not accessible if you've made further modifications. Remove the custom ad blocker rule(s) and the page will load as expected.