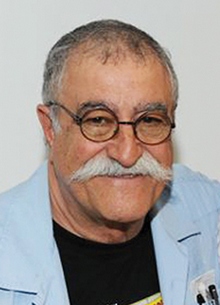 Sergio Aragonés
Cartoonist, Groo, MAD magazine
One of MAD magazine's longest-running cartoonists (Al Jaffee holds the record) and the creator of that popular dim-witted barbarian Groo, Sergio Aragonés recently ventured into the popular world of The Simpsons, becoming a featured writer/artist in Bart Simpson Comics. A new book, MAD's Greatest Artists: Sergio Aragonés: Five Decades of His Finest Works, celebrates Sergio's long history with the humor magazine.
Ad blocker interference detected!
Wikia is a free-to-use site that makes money from advertising. We have a modified experience for viewers using ad blockers

Wikia is not accessible if you've made further modifications. Remove the custom ad blocker rule(s) and the page will load as expected.