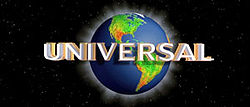 Universal Pictures (sometimes called Universal City Studios or Universal Studios for short), is a subsidiary of NBCUniversal, and one of the six major movie studios.
Having been founded Founded in 1912 by Carl Laemmle, Universal Pictures is the second-longest-lived Hollywood studio; Viacom-owned Paramount Pictures is the oldest by a month. In May of 2004, the controlling stake in the company was sold by Vivendi Universal to General Electric, the parent company of NBC. The resulting media super-conglomerate was renamed NBC Universal, while the production subsidiary retained the Universal Studios Inc. name.
Universal owns an extensive library of films and a sizeable collection of TV shows through its subsidiary NBC Universal Television Distribution. It also acquired rights to several prominent filmmakers' works originally released by other studios through its subsidiaries over the years.
Franchises
Edit
Among Universal Studios largest franchises are Jaws, Jurassic Park, and The Fast and The Furious.
Ad blocker interference detected!
Wikia is a free-to-use site that makes money from advertising. We have a modified experience for viewers using ad blockers

Wikia is not accessible if you've made further modifications. Remove the custom ad blocker rule(s) and the page will load as expected.