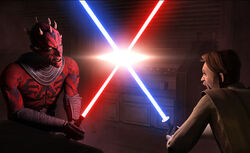 Hey Guys,
I attended the Clone Wars panel today which featured supervising director Dave Filoni and writer Matt Michnvetz (who is also a writer on the video game Star Wars 1313). They were both super excited about Season 5. Matt went so far as to say it's the "best season yet!" The first thing they did was show some clips from season 4 that will be included in the Blu-ray release- never before seen render comparison footage of the hunt for and then the arrest of Pong Krell. It's hard to view the split screens at the same time, so watching it at home will give you the advantage of pausing and multiple viewing. They also unveiled a crucial scene from Season 5- in which Obi-Wan Kenobi and Bo-Katan flee Mandalorians. As they run for their lives, she says to Obi-Wan "Mal must really want you dead." Obi-Wan replies dryly, "You have no idea." When asked to elaborate on this, the panelists all remained tight-lipped! They also mentioned to look out for more face time between brothers Darth Maul and Savage Opress. Mal's tactical smarts will really shine this season and his brother is going to get surprised by Mal's wickedness! Can't wait to watch this season, it looks spectacular-- tons and tons of action! If you were hoping for a huge space battle this year, as was one fan in the audience, Dave said you'll have to wait for it-- but they do intend to deliver the mother of all space battles at some point....
If I can help answer anybody's questions about the panel today, just leave a note in the comments. Thanks!
Ad blocker interference detected!
Wikia is a free-to-use site that makes money from advertising. We have a modified experience for viewers using ad blockers

Wikia is not accessible if you've made further modifications. Remove the custom ad blocker rule(s) and the page will load as expected.