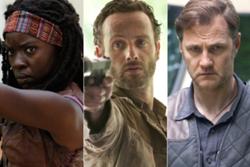 Last week you guys posed
questions
you wanted answered by the cast and crew of The Walking Dead at Comic-Con. I had the chance to meet with some of the them today and here are some highlights from what they had to say about
Season 3
!
Executive Producer and Showrunner Glen Mazzara talked about how excited he was about the new season. "We really hit the ground running. The intensity from the end of Season 2 is kinda the launching point and we just have a really, really great, tight story this season." He was a bit reluctant to give away any specifics about the plot and how it may or may not be different from the comics. He was willing to divulge only in general terms. "The first two seasons is about looking for safe havens. But the farm was just taken away. Now it's more about how do you live in this world? The walkers are not going away. There's no help coming. It's about different people trying different things to rebuild their lives. That's the story we're telling in Season 3.
Actor Andrew Lincoln who plays Rick Grimes spoke at length about his characters storyline in Season 3, intuiting that "things get very dark for Rick in this season. All the trauma from season 2 has just boiled over for him and he goes to a very dark and painful place." With regards to his relationship his son, he said to look for Rick to really start treating his son like a boy who's crossed over into adulthood- albeit perhaps prematurely. But a man nonetheless.
Actress Lauren Cohan, who plays Maggie Greene, said that for her character, Season 3 will be about "family. She's very protective of her family and has her little sister and her father to look after. And there's some spirituality at play. The meaning of survival." Laurie Holden also talked about her character Andrea and her upcoming relationship with Michonne. "Michonne is a warrior. An alpha female. We complement each other and have each others backs. There's this mutual respect."
You guys wanted to know if there would be more webisodes. I'm happy to confirm that Executive Producer Gale Anne Hurd said there will be new webisodes coming as well as more video games. And some other cool news- Norman Reedus said that his character will be in the next installment of the video game. Which means lots of cool crossbow killing action! She also praised the actors for all the really grueling physicality of the actual shooting of the show. When she offers roles to actors she tells them up front "this is not an easy show to shoot. It's no cake walk and it requires 150%."
One of the things Greg Nicotero, the Special Effects Make-Up Supervisor, is excited about in Season 3 is the prison. He said that it was sometimes difficult to bring some mystery to the makeup at the farm because lots of the action was outside and in the daylight. But that the prison "is like a haunted house. It has dark hallways and there's no power. It's naturally spooky. So there's having things come out of the dark..." Speaking of the prison, actor David Morrisey was also on hand. He was very tight-lipped about the details of his character The Governor. He offered that he had read the comics and the book The Walking Dead: Rise of the Governor and "I took my lead for the character from the book."
When asked about whether or not the television show influences the comics, The Walking Dead creator Robert Kirkman said that it doesn't. He was quick to point out that nobody from the network is trying to influence the comics in anyway. "I have total free-reign with the comics. They leave me alone to run wild with my imagination. I still produce a new comic book each month." Regarding whether he felt any sense of loss of control of his story because of the tv series, he said that what's important to him is "that the audience is feeling emotion and bonding with the characters. That's how I knows I'm doing a good job."
Ad blocker interference detected!
Wikia is a free-to-use site that makes money from advertising. We have a modified experience for viewers using ad blockers

Wikia is not accessible if you've made further modifications. Remove the custom ad blocker rule(s) and the page will load as expected.