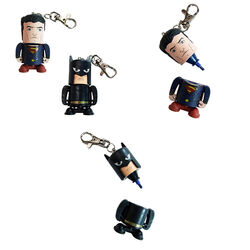 The latest in the line of SDCC 2014 exclusive collectibles from Factory Entertainment feature two of the world's greatest heroes...Batman, The Dark Knight and Superman, The Man of Steel! These collectible mini-figure keychains can be hooked onto your bag, laptop case, belt, or really anywhere!
The best part of these collectibles is the hidden feature in both: concealed pencils! Pulling off the figure's head reveals the hidden pencil, and, once you're done writing or doodling, the head just clicks back on and is ready to hang wherever you want it!
Get these at the Factory Entertainment Booth (#2747) at SDCC 2014, or pre-order them now by clicking this link!
---
---
Ad blocker interference detected!
Wikia is a free-to-use site that makes money from advertising. We have a modified experience for viewers using ad blockers

Wikia is not accessible if you've made further modifications. Remove the custom ad blocker rule(s) and the page will load as expected.