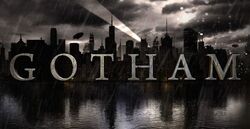 We mentioned in a previous post that we put up, we reported that Fox's Sleepy Hollow would have something at Petco Park. Now, we're happy to say that Gotham will have its share of interactive events for fans too! Attendees who head to the Sleepy Hollow event will be "transported" via an Oculus Rift headset into a virtual reality Sleepy Hollow experience, where they will be chased by a headless horseman!
For Gotham fans, you can ride a zip line or be drive around in Gotham City police cars! With the network's "Gotham Zip Line", particpants can zip-line in the area between the convention center and the Hilton Bayfront Hotel, and then receive a sharable photo of the experience, along with a commemorative Comic-Con Gotham badge. FOX has also outfitted some cars to look like the iconic police cars in the series to drive convention-goers around throughout the weekend, for free! The cars are supposed to be equipped with iPads offering sneak previews of Gotham.
How cool is that?
Source: SDCC Blog
---
---
Ad blocker interference detected!
Wikia is a free-to-use site that makes money from advertising. We have a modified experience for viewers using ad blockers

Wikia is not accessible if you've made further modifications. Remove the custom ad blocker rule(s) and the page will load as expected.