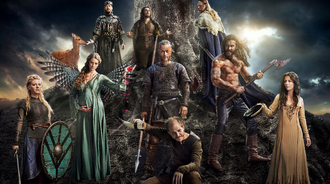 Exciting news for the Vikings fans out there! The hit show from History channel will be returning to San Diego Comic Con on Friday, July 25 with several exciting opportunities for fans, including a panel with exclusive season three footage, an interactive "On the Set" experience and autograph signing!
"On the Set with VIKINGS": Thursday, July 24 – Saturday, July 26. Location: 450 2nd Avenue
Friday, July 25 from 4:45 – 5:45 p.m., Room 6A

Travis Fimmel (Ragnar), Katheryn Winnick (Lagertha), Clive Standen (Rollo), Alexander Ludwig (Bjorn), Michael Hirst (writer/creator), and Julian Hobbs (VP Scripted & Non-Fiction Development & Programming, HISTORY) will reveal an exclusive sneak peek of the new season.
Cast Autograph Signing on Friday, July 25 from 1 – 2 p.m. at 450 2nd Avenue

Fans will get a behind-the-scenes look at Vikings and will have a starring role in their own custom video that can be shared on social media. From the moment fans enter the "back-lot" they will be treated as cast members. Upon entering, guests will create a character profile and choose a weapon of choice. Next, they will meet with hair and make-up artists to become transformed into a fierce Viking and be placed into three scenes complete with Vikings ships, battles, axes and villages. When fans have completed the experience they will have a :30 video to share via Twitter, Facebook or Vine!
Travis Fimmel (Ragnar), Katheryn Winnick (Lagertha), Clive Standen (Rollo) and Alexander Ludwig (Bjorn) will make an appearance at the same time and place to sign autographs and take photos with fans.
Custom, limited edition VIKINGS comic book will be given to select fans who visit the "On the Set" activation on 450 2nd Avenue. In this exclusive comic book for SDCC, the character Floki entertains the Vikings with a humorous tale of Thor, Loki and other gods. Comic's creator & story by Michael Hirst, written by Joe Brusha & Ralph Tedesco, artwork by Giuliano Piccinnino with cover art by Anthony Spray.
---
---
Ad blocker interference detected!
Wikia is a free-to-use site that makes money from advertising. We have a modified experience for viewers using ad blockers

Wikia is not accessible if you've made further modifications. Remove the custom ad blocker rule(s) and the page will load as expected.