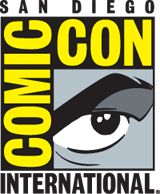 On today's daily roundup of Comic-Con news, we have a little teasing from Arrow's Stephen Amell, official banners that have gone up in San Diego, and more! Check it out below.
News
Stephen Amell Teases SDCC Involvement
We all know that the star of CW's Arrow will be at SDCC for that show's panel, but in a Facebook post he apparently hinted to fans that he would be involved in more than just one panel! According to IGN, Amell wrote that he will be involved in at least THREE other things. Fans quickly started speculating about whether he would be revealed as being a part of Batman v Superman: Dawn of Justice and the planned Justice League movie.
The Flash will also be revealing its pilot at SDCC this year, and there was mention that Amell would be involved in a small crossover with that show. So we are guessing that The Flash is one out of his other three engagements!
Source: IGN
Comic-Con 2014 Banners
The official banners are up! Event banners have gone up in downtown San Diego in preparation of SDCC 2014, and they feature Baymax, a fluffy, white robot from the new Disney film "Big Hero 6" and Marvel characters from the film "Guardians of the Galaxy" like Peter Quill. Check it out!
Source: NBC
Panels
The Hollywood Reporter has released a list of TV panels that will be at this year's Comic-Con! Along with a few pilot screenings of the upcoming DC shows that we're super excited for, SDCC 2014 will see the return of Teen Wolf, The Big Bang Theory, The Vampire Diaries, and many more! Click on the source link below to see the lineup now!
Source: The Hollywood Reporter - Comic-Con 2014: The Complete TV Lineup
---
---
Ad blocker interference detected!
Wikia is a free-to-use site that makes money from advertising. We have a modified experience for viewers using ad blockers

Wikia is not accessible if you've made further modifications. Remove the custom ad blocker rule(s) and the page will load as expected.