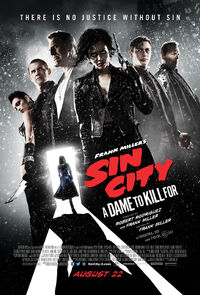 Hold on tight, Sin City fans, because this franchise is making a big showing at Comic-Con this year!
First, Sin City will be at Petco Park for the entire convention! The film's classic cars will be on display at Petco Park parking lot throughout Comic-Con against a 102-foot long Sin City skyline. The cars will will include a 1985 Dodge Diplomat, 1955 Chevrolet Bel Air, 1960 Chevy Corvette, 1959 Cadillac el dorado, 1964 1/2 Ford Mustang convertible and 1949 Cadillac Sedanette. There will also be a Sin City style photo booth, a live DJ every day, and promo giveaways (t-shirts, poker chips, playing cards, mini posters, and books).
Next, there will be a Talent & Filmmaker poster signing at the park on Saturday, July 26 (11:15am - 12:15pm). If you're busy attending some other panel or event at that time, they will be back for more signing on Saturday, July 26 (4:15pm - 5:15pm). For this second signing, head over to the Convention Hall at the Dark Horse booth!
Finally, there will be an official panel on Saturday, July 26 from 2:50pm - 3:50pm. Co-directors Robert Rodriguez and Frank Miller and actors Jessica Alba, Josh Brolin and Rosario Dawson will be present for the official Hall H panel!
---
---
Ad blocker interference detected!
Wikia is a free-to-use site that makes money from advertising. We have a modified experience for viewers using ad blockers

Wikia is not accessible if you've made further modifications. Remove the custom ad blocker rule(s) and the page will load as expected.