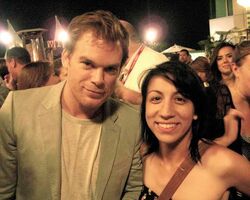 We have an awesome exclusive interview for you Dexter fans! We had one of our mega-Dexter fans get an interview with Michael C. Hall, Dexter himself, at a Comic-Con party for Showtime. Check out some amazing pictures from the party and get the scoop from everyone's favorite serial killer!
Mild Spoilers!
1. If you can say anything to your fans what would it be?
MCH: Oh! Thank you for watching. (So modest.)
2. I noticed that a lot of the promos involve religion or has some religious aspects attached to this season... can you shed any light on that?
MCH: I think its a combination of things. One of the factors is that Dexter is aware that his son is getting older and he's trying to be mindful of what he can give his son, not just what he doesn't want to give him. I think he has the sense that exposing him to a possibility of a spiritual life is a part of that. And in addition to that: [Dexter] befriends someone who is a believer, that has an influence on him.
3. I'm assuming that someone you mention is Mos Def?
MCH: Yes.
4. How was it working with him? MCH: He's been great; a great person to have on set, and he's a lot of fun to work with.
5. Can you elaborate at all on your relationship with him on Dexter?
MCH: Haha. Like Mos said at the panel earlier: I could but then Dexter would have to kill me. (Ha!)
6. This is a "fan" question: If you could be any character on the show, who would it be?
MCH: (Totally stumped)..... Hmmm, Masuka? I don't know!
Gallery
Ad blocker interference detected!
Wikia is a free-to-use site that makes money from advertising. We have a modified experience for viewers using ad blockers

Wikia is not accessible if you've made further modifications. Remove the custom ad blocker rule(s) and the page will load as expected.