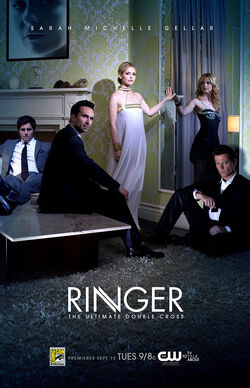 If you've been dying for Sarah Michelle Gellar to return to TV since Buffy and Angel went off the air, this is your year! Ringer, a thriller in which you'll get double the fun with Sarah Michelle ellar playing twins, has debuted at Comic-Con! The mysterious picture features the core cast members including Nestor Carbonell of Lost!
Are you psyched for the new fall drama? Check out the extended preview at TV Fanatic!
Ad blocker interference detected!
Wikia is a free-to-use site that makes money from advertising. We have a modified experience for viewers using ad blockers

Wikia is not accessible if you've made further modifications. Remove the custom ad blocker rule(s) and the page will load as expected.