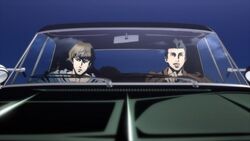 Much like another otherworldly thriller Underworld, it looks like Supernatural is going anime!
Fresh from the Supernatural panel at Comic-Con, check out these awesome anime previews, courtesy of DVD Talk. These will be available with Supernatural DVD set and feature storylines from the first couple of seasons; however, they expand on certain scenes and plots that were just touched upon before. Animation gives them license to explore options they don't have with their live-action budget or censorship. For Supernatural fans, it might be an interesting look into the lives of Sam and Dean as never seen before!
Gallery
Ad blocker interference detected!
Wikia is a free-to-use site that makes money from advertising. We have a modified experience for viewers using ad blockers

Wikia is not accessible if you've made further modifications. Remove the custom ad blocker rule(s) and the page will load as expected.