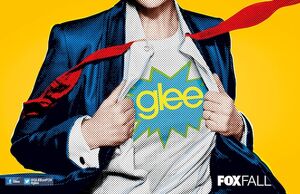 What happens when you take Glee and combine it with some super-power style? The Glee Comic-Con poster, of course!
Glee will be at Comic-Con on Saturday, July 14, at 5 pm in the Indigo Room--specifically the FOX FANFARE booth. The panel will feature stars Lea Michele, Cory Monteith, Darren Criss, Kevin McHale, Jenna Ushkowitz and Naya Rivera as well as co-creator Brad Falchuk. There will also be an autograph signing at 2:30 at the same place.
So, will you be going to Comic Con? Comment below and let us know!
Source: tvline.com

For more entertainment news be sure to follow us on

and