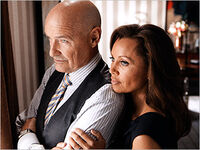 Were you excited to find out which shows are going to the 2012 Comic-Con? It seems that the studios are beginning to announce which shows are going, and which are staying behind.
Like usual, Warner Bros. will have a strong presence at Comic-Con, and this year is no exception given the shows that have been awarded panels at the fan convention. The shows we know of so far, who are going to San Diego, are as follows:
July 12
July 13
July 14
July 15

In particular, Fringe and Big Bang Theory will be getting upgrades--they will be in the spacious Hall H, which has previously hosted prestigious shows such as Lost.
Are there any shows that you believe deserve upgrades, or a space at the convention? Comment below and let us know what you think!
Source: Entertainment Weekly
---
---
Ad blocker interference detected!
Wikia is a free-to-use site that makes money from advertising. We have a modified experience for viewers using ad blockers

Wikia is not accessible if you've made further modifications. Remove the custom ad blocker rule(s) and the page will load as expected.