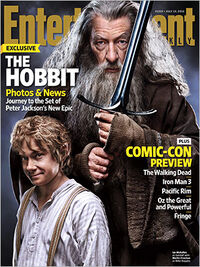 Can you believe it's been almost ten years since the last Lord of the Rings film trilogy film came out? Well, luckily we have The Hobbit being released in December. Even then, that's going to be a while to wait! Can we contain our excitement for our precious?
In any case, this week's Entertainment Weekly cover featured Martin Freeman and Ian McKellen--as well as Comic-Con preview images inside. I highly recommend picking one up.
The new issue of Entertainment Weekly will be on stands on July third--so grab one!
Are you going to get the new issue? Are you going to Comic-Con? Let us know!
Source: Entertainment Weekly
---
---
Ad blocker interference detected!
Wikia is a free-to-use site that makes money from advertising. We have a modified experience for viewers using ad blockers

Wikia is not accessible if you've made further modifications. Remove the custom ad blocker rule(s) and the page will load as expected.