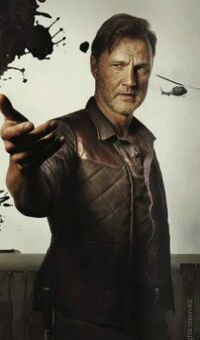 So...what do we know about Season 3 of The Walking Dead? We know there will be a prison, zombies to go along with it, and a sinister figure called The Governor. But now, we get to go a step farther. Feast your eyes on the Season 3 promo poster!
The poster clearly shows The Governor, as played by British actor David Morrissey. In addition, we get to catch a glimpse of katana sword warrior Michonne, played by Danai Gurira.
Showrunner Glen Mazzara also has something to say about Season 3 which leads us to believe it could be an even scarier and action-packed season: "The entire landscape has fallen to zombies," says Mazzara, "The entire world has collapsed, the apocalypse has taken over, the zombies have taken over, there's no safe place. And I think in the past our characters thought they could find some safe harbor, and now there's just no good hiding place at all."
The Season 3 poster will be featured all over Comic-Con next week, so keep a look out!

Source: Entertainment Weekly
---
---
Ad blocker interference detected!
Wikia is a free-to-use site that makes money from advertising. We have a modified experience for viewers using ad blockers

Wikia is not accessible if you've made further modifications. Remove the custom ad blocker rule(s) and the page will load as expected.