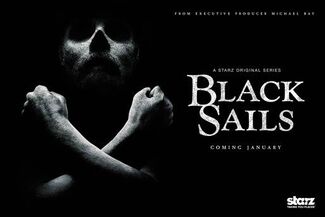 Ahoy, swashbuckling premium cable fans: Black Sails, the new Starz show from Executive Explosioneer Michael Bay, will be making a substantial appearance at this year's Comic-Con. Zach McGowan ("Shameless"), Jessica Parker Kennedy ("The Secret Circle," 50/50), Mark Ryan (Transformers, The Prestige), Hakeem Kae-Kazim ("24," Hotel Rwanda) and "Black Sails" series creators Jonathan Steinberg ("Jericho," "Human Target") and Robert Levine ("Touch") will be peg-legging around Comic-Con 2013 with special appearances throughout the show. The cast and creators will host the previously announced fan-only screening scheduled for Thursday -- and additional surprise guest to be announced closer to Comic-Con.
The series, which takes place twenty years prior to the events of Robert Louis Stevenson's literary classic "Treasure Island," follows the exploits of Captain Flint, played by Toby Stevens. The most renowned and feared pirate of the seas, backed by an adventurous crew, he fights endlessly for the survival of New Providence Island, the land's pirate hub.
"Black Sails" will debut with an eight-episode season in January 2014, exclusively on STARZ.
---
---
Ad blocker interference detected!
Wikia is a free-to-use site that makes money from advertising. We have a modified experience for viewers using ad blockers

Wikia is not accessible if you've made further modifications. Remove the custom ad blocker rule(s) and the page will load as expected.