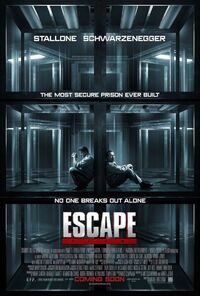 Get ready for action at this year's Comic-Con. Summit Entertainment has announced that it will debut ESCAPE PLAN at this year's convention. The film, starring Arnold Schwarzenegger and Sylvestor Stallone, has the pair of action stars escaping from the world's highest security prison. I bet a lot of things will blow up (and it will be awesome.)
The screening will be hosted by Stallone and Schwarzenegger at the Reading Cinemas Gaslamp 15 on Thursday July 18th. Passes will be distributed online, at the Summit Booth on the convention floor, and at a gateway near the screen location on the evening of event. These tickets will probably go pretty quickly, so make nabbing a ticket a priority.
The line will open outside the Reading Theater in the Gaslamp District at 5pm.
The film finds it's way to theaters on October 18th, 2013 -- so if you find a ticket, you'll be getting a nice head start on the general population.
---
---
Ad blocker interference detected!
Wikia is a free-to-use site that makes money from advertising. We have a modified experience for viewers using ad blockers

Wikia is not accessible if you've made further modifications. Remove the custom ad blocker rule(s) and the page will load as expected.