If you're a fan of Metal Gear Solid, Castlevania, or Konami in general, the following news should pique your ears. The video game publisher has a full docket prepped for thir 4th Annual Comic-Con Gaming Suite, where gamers can sit back, relax, and enjoy food and drink while getting some hands on time with some of their hottest upcoming titles, including Castlevania: Lords of Shadow 2, Pro Evolution Soccer 2014, Metal Gear Solid: The Legacy Collection and more.
The details of the show are included on the invite below.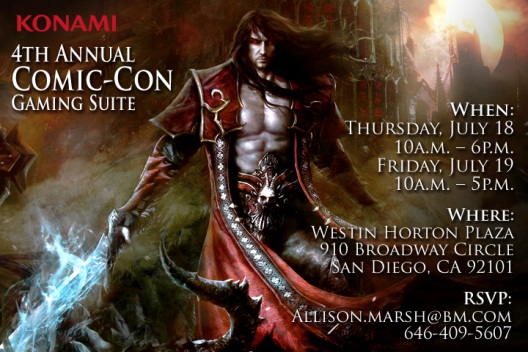 ---
---
Ad blocker interference detected!
Wikia is a free-to-use site that makes money from advertising. We have a modified experience for viewers using ad blockers

Wikia is not accessible if you've made further modifications. Remove the custom ad blocker rule(s) and the page will load as expected.