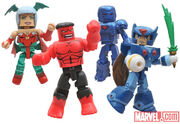 The good folks at Gizmodo have made a list of thirty limited-edition toys that will only be sold at Comic-Con this year. Among the best are a bust of a bloodied Neville Longbottom with the Sorting Hat, and Scott Pilgrim donning a winter jacket and wielding a katana.
My personal favourite is the Gay Empire Lavender Guard: Asking AND Telling Edition. Which goes for $69. You couldn't make up something like this if you tried.
See the full list on Gizmodo right here.
Ad blocker interference detected!
Wikia is a free-to-use site that makes money from advertising. We have a modified experience for viewers using ad blockers

Wikia is not accessible if you've made further modifications. Remove the custom ad blocker rule(s) and the page will load as expected.