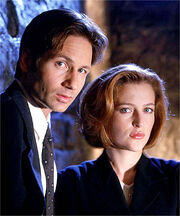 Yes that's right folks, Comic-Con is just around the corner and what makes it even better is the celebration of X-files 20th anniversary! The creator, Chris Carter will be there along with some of the writers and producers of the show. To top if off the actors Gillian Anderson and David Duchovny will also be joining. All will be at the X-files 20th anniversary Panel on July 18th, at 3:30 in Ballroom 20.
Hope to see you all there!!
Ad blocker interference detected!
Wikia is a free-to-use site that makes money from advertising. We have a modified experience for viewers using ad blockers

Wikia is not accessible if you've made further modifications. Remove the custom ad blocker rule(s) and the page will load as expected.