Here are the final winners of the #WikiaFanArmy SDCC Scavenger Hunt 2014:
CONGRATULATIONS! And a huge shout out to all who participated. All others from the leaderboard will receive Wikia swag just for being part of the hunt!
Look for a direct message from @Wikia for more details.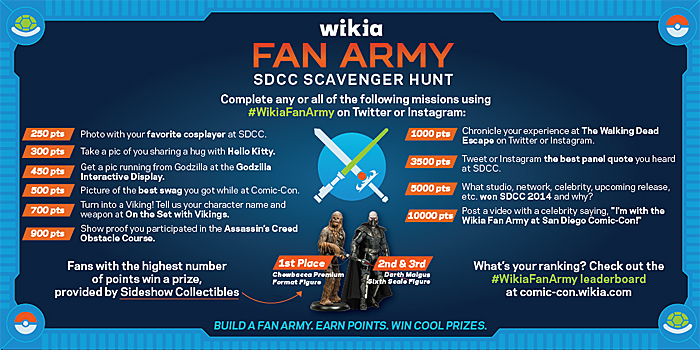 Attention Comic-Con goers!
Are you ready to build a fan army that will rule San Diego Comic-Con 2014?
This year, go viral with your SDCC experience by joining our Wikia Fan Army. A limited number of Wikia Fan Army scavenger hunt cards will be passed around by fans at the show. This card details your first mission to complete on Twitter or Instagram using the hashtag #WikiaFanArmy, and then you pass the card to another person. Once completed, you'll receive a list of remaining missions from @Wikia. All missions are worth points, and the fans with the highest points at the end of SDCC will win amazing prizes, provided by Sideshow Collectibles .
| First Place | 2nd & 3rd Place |
| --- | --- |
| | |
For fans not attending the show, make sure you follow the Wikia Fan Army scavenger hunt on Twitter or Instagram under #WikiaFanArmy on @Wikia. You won't want to miss the madness!
Good luck, and go viral.
MISSION GALLERY
Ad blocker interference detected!
Wikia is a free-to-use site that makes money from advertising. We have a modified experience for viewers using ad blockers

Wikia is not accessible if you've made further modifications. Remove the custom ad blocker rule(s) and the page will load as expected.